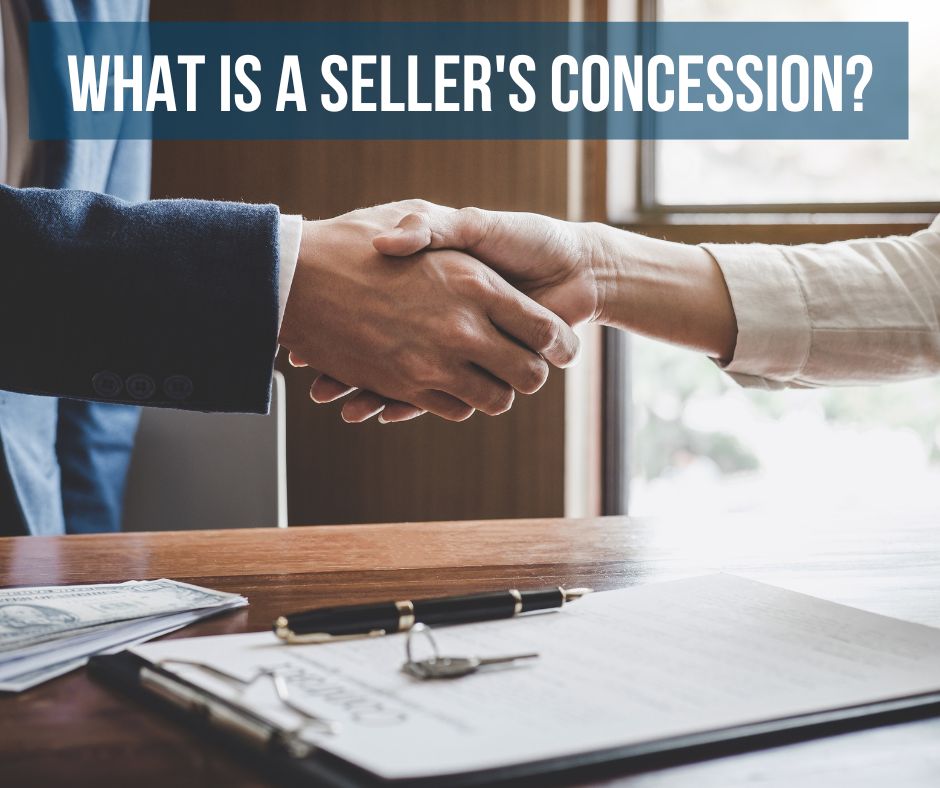 As the housing market calms down from its hot streak of 2020-21, sellers are becoming more motivated to negotiate with buyers. A common point of negotiating is a seller's concession also known as a seller's assist or seller contribution.
What is a seller's concession?
A seller's concession is when the seller agrees to pay some of the buyer's closing costs. This is most common when the buyer requests repairs which the seller does not want to complete. The concession reduces the amount the amount of money the buyer needs to bring to the closing table. This provides financial flexibility for the buyer to accomplish the repairs on their own. There are some limits to seller's concessions, and these vary based on a variety of factors such as type of loan and locality-specific laws. It is a bargaining tool used by sellers to make the purchase of their home a more attractive option. While a concession can be offered at any point, they are most common during the negotiation process. Alternatively, a seller might offer a concession in their initial listing of the property.
Who benefits from a seller's concession?
When home prices are high, every dollar can count to a buyer. A concession can help a buyer who has limited fund for down payment or needs to lower their monthly cost with a buydown of their interest rate.
In a crowded housing market, sellers can get a leg up on their competition by offering a concession. Interestingly, now, in the fall of 2022, we are seeing both situations collide. While there certainly aren't a flood of houses on the market, with rises in interest rates and record high home prices, sellers are finding it harder to get to the closing table. Offering a seller's concession is a great tool for a seller who doesn't want or cannot wait to sell, a concession is a great tool. Perhaps they are relocating for work, need more space for a growing family, or simply want a change of location.
What can a seller's concession pay for?
A seller's concession can only be used to reduce the buyer's closing costs. For full details on what closing costs are, how much they generally cost, and which ones are the buyer's responsibility, please see our closing costs blog. While there are some instances when closing costs might be allowed to be financed as part of the mortgage loan, there are many instances when closing costs are required to be paid in cash up front. If you are low on funds for your down payment, having a seller concession cut the amount you need to bring to the closing table can be a huge help. If you have the available funds needed for closing, you could instead consider using the seller's concession to buy down your interest rate. There are temporary and permanent buy down options available. Choosing which is right for you depends on how long you plan to stay in the home and the likelihood of interest rates shifting in the near future. In a climate like late 2022 where interest rates are higher, inflation is taking a bite out of household expendable income, and many experts forecast a drop in rates by mid-2023, a temporary buydown could be a great option. We will breakdown how buydowns work in our next blog.
Are there limits to seller's concessions?
Yes, there are rules surrounding seller's concessions and like many mortgage guidelines, they vary depending on the type of loan you chose, the purpose of the property, the loan amount, and the assessed value of the property. And these rules can change from time to time. Here are the guidelines as of November 21, 2022.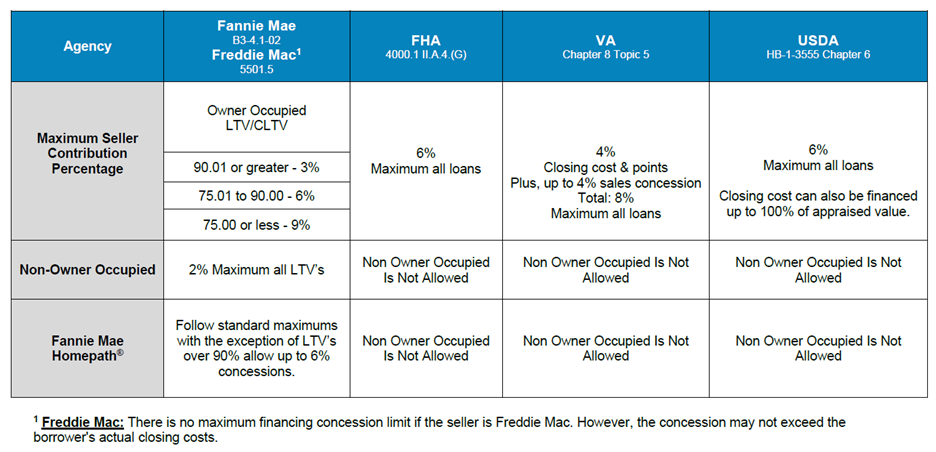 Should I ask for a seller's concession?
Ultimately, that decision is based on your specific circumstances and the state of the real estate market. In a buyer's market, a seller is much more likely to accept a seller's concession request. Even if they decline your request, you could still potentially move forward and purchase the property without the concession as long as it is financially viable for you and there aren't more competitive offers from other buyers. We recommend you discuss the possibility with a trusted real estate agent who understands the state of your local market and the current trends.