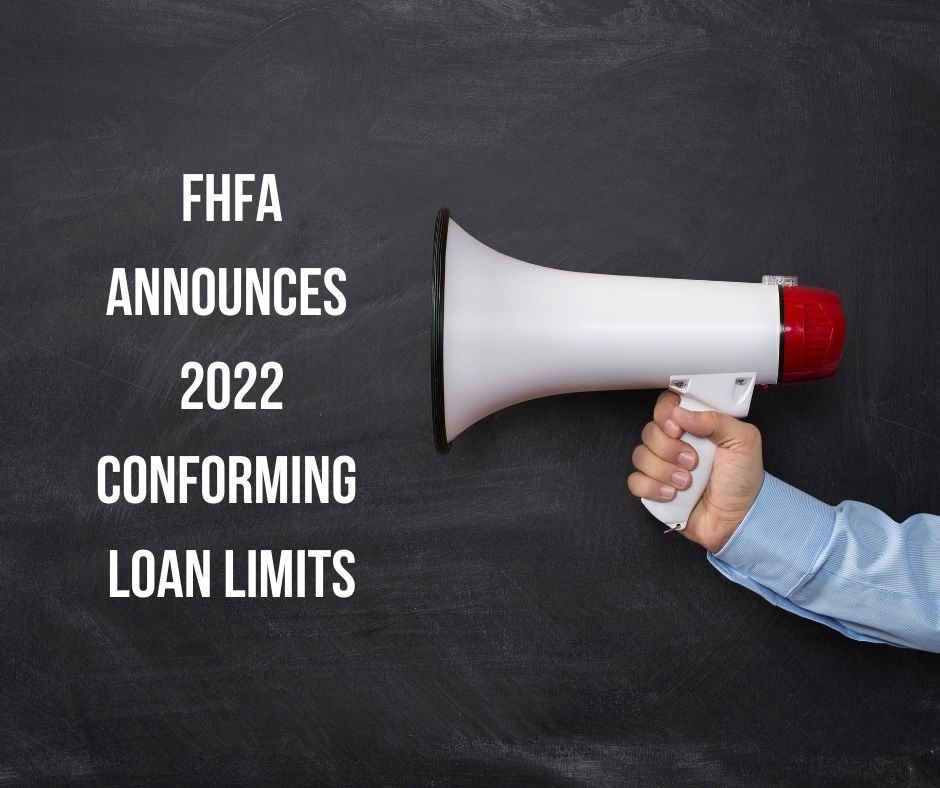 New Conforming Loan Limits for 2022
The Federal Housing Finance Agency (FHFA) announced this week that they are increasing the baseline conforming loan limit for 2022 from $548,250 to $647,200 for 95% of U.S. counties. This is an 18% increase. For the nearly 100 counties that are categorized as high-cost areas, that limit is even higher with some counties going as high as $970,800.
Background
The Housing and Economic Recovery Act of 2008 (HERA) set the formula for conforming loan limits. Form that time, the first increase was not until 2016. Over the past 6 years, the baseline loan limit has increased by $230,200. 2021's limit was a 7.5% increase from 2020. For high-cost areas, where 115% of the local median home value exceeds the baseline conforming loan limit, the maximum loan limit is higher than the baseline loan limit. HERA establishes the maximum loan limit in those areas as 150% of the baseline loan limit.
Why Is the Baseline Conforming Amount Important?
The baseline conforming amount is adjusted annually based on median home prices. As home values increase, the baseline confirming limit follows suit to ensure government backed loans are available to the median price consumer. Loans higher than the baseline are considered jumbo loans which tend to have higher interest rates and stricter guidelines for approval.
What is a Jumbo Loan?
Jumbo loans are loans for higher-priced properties above the conforming loan limit. Luxury homes and homes in high-demand areas are often financed with jumbo loans. Jumbo loans aren't backed by government-sponsored organizations like Fannie Mae and Freddie Mac and are considered a higher risk for the lender. The increased risk comes with increased requirements and rates. Jumbo loans tend to require higher credit scores, lower debt-to-income ratios (DTI), and higher income thresholds. By increasing the conforming loan limit, borrowers who were not eligible for the more stringent jumbo requirements might now qualify for a conforming loan for the same property (if it is within the new conforming limit).
How do I know what the conforming limit is in my area?
The FHA's website has an interactive map and a printable list of limits by county. You can also reach out to us if you have any questions.
What if I have started the mortgage process on a home that was considered a jumbo loan but isn't with the new limit?
If you are already cleared to close, we recommend staying the course and continuing with your loan as previously planned. If you are not yet cleared to close, contact your mortgage broker to see about updating your loan to conventional. This could decrease your interest rate and save you money. If your loan is closing in 2022, this should be a fairly simple request. If your loan is closing between now and 2022, some mortgage lenders are offering to honor the 2022 limit now. Be sure to discuss your options with your loan officer so you understand what updating your loan might change in terms of cost and timing.